About Us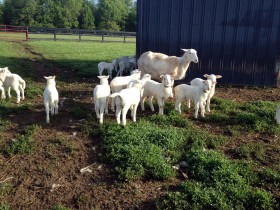 Many years after swearing off the farm life when she left the family farm for college, and following a career as a nurse, Joyce Keibler and her husband Gary chose to spend their "retirement" as sheep farmers. In 2005 they bought Hemmer Hill Farm outside of Louisville, Kentucky's Northeast End and began raising Saint Croix sheep. While Joyce's family had experience with both beef cattle and wool sheep, she preferred the smaller size of sheep. After attending a free class at the University of Kentucky which introduced her to different sheep breeds, she decided on the Saint Croix, a small meat breed with hair rather than wool, known for its resistance to the parasite problems that often plague other breeds.
Becoming Animal Welfare Approved was an added marketing tool to communicate the rigorous husbandry practices that Hemmer Hill employs to raise their animals. Joyce is proud of her ability to manage her pastures without the use of pesticides and keep her animals parasite-free without worming. With Gary's attention to soil health and rain fall, they are able to grow excellent grass and practice rotational grazing, moving their sheep to keep them on the fertile pastures. This can be challenging depending on weather, but it leads to their animals' superior nutrition and health.
Hemmer Hill registered and pure bred sheep are mostly sold as breeding stock all over the Midwest and East Coast. The Saint Croix sheep is on the American Livestock Breeds Conservancy "Threatened" list, meaning that they have a global population under 5,000. While they don't produce wool, the variety is desired for their easy care, multiple births, and lean meat which many customers prefer over the oily or lanolin-tasting meat that some think wool sheep produce. Customers who would like to buy breeding stock should reserve their lambs ahead of time by calling or emailing Joyce.
We are also members of Kentucky Proud. Consumers look for the Kentucky Proud brand for fresh, nutritious, great-tasting food they can serve to their families with confidence. Kentucky Proud is recognized as the symbol of quality food products raised or made in Kentucky by Kentuckians.